Culinary delights & fine wines. 
Welcome to our restaurant where we offer an exquisite and varied cuisine which meets the highest culinary standards. Take time and enjoy the finer things in life. Andy s'restaurant offers daily changing 5-course menus with starter, 2 soups and 3-4 main dishes of choice, dessert or ice cream, the full menu or à la carte from the menu, soups and salads from the buffet, venison from our own hunting, large selection of exquisite wines, children's menu, vinotheque with small selection of wines to take way in the shop. Andy s'restaurant is located on the ground floor of Andy Hotel Apartment Wellness and is open to Andy guests and outside guests.
Restaurant opening hours:
Breakfast daily from 7.30 to 10.00
Terrace, winter garden & bar daily from 12.00 to 23.00.
À la carte restaurant daily from 18.00 to 21.00.
OPEN DAILY
Breakfast buffet is included for all guests of Andy Hotel Apartment Wellness, and a beautifully laid table is waiting for you. If you would like to enjoy dinner in the à la carte restaurant we ask that you book a table in advance.
For more information and table reservations please contact us by phone at +43(5414)86100 or by email at info@hotelandy.com.
Breakfast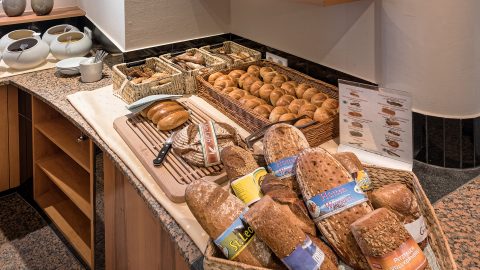 Breakfast buffet from 7.30 – 10.00
Breakfast buffet included in the room rate for guests of Hotel Apartment Andy
Breakfast in your apartment/room at Hotel Apartment Andy by advance booking
Afternoon Snacks & Terrace
Terrace, winter garden & bar daily from 12.00 to 23.00
Fine wines from our Vinothek (also for take-away)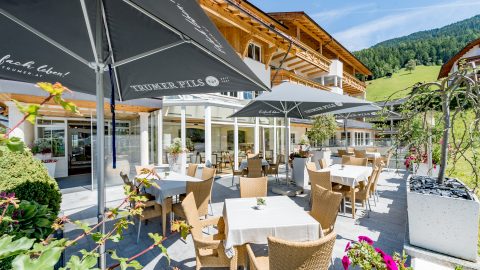 A la carte restaurant
Dinner daily from 18:00 – 21:00
Regional and international delicacies
Daily changing menu with starters, 2 soups and salads from the buffet, 3-4 main courses to choose from, 2 desserts
Children's menu