Restaurant Vinothek Genuss
Culinary delights & fine wines. Communication & joie de vivre. 
Welcome to our restaurant where we offer an exquisite and varied cuisine which meets the highest culinary standards. Take time and enjoy the finer things in life. The restaurant is located on the ground floor of Andy Hotel Apartment Wellness.
Restaurant opening hours:
Breakfast daily from 7.30 to 10.00
Terrace, winter garden & bar daily from 14.00 to 22.00. Closed on Tuesdays.
Vinothek daily from 08.00 to 22.00. Tuesdays from 08.00 to 18.00.
À la carte Restaurant daily from 18.00 to 21.00. Closed on Tuesdays.
Breakfast buffet is included for all guests of Andy Hotel Apartment Wellness, and a beautifully laid table is waiting for you. If you would like to enjoy dinner in the à la carte restaurant we ask that you book a table in advance.
NEW! Evening menu: Our guests can combine their individual 4-course dinner from the à la carte menu at a price of EUR 30. For more information and table reservations please contact us by phone at +43(5414)86100 or by email at info@hotelandy.com.
Click here to view the restaurant
Breakfast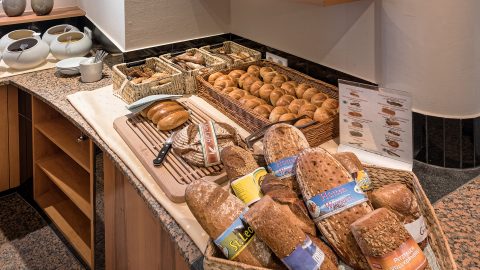 Breakfast buffet from 7.30 – 10.00
Breakfast buffet included in the room rate for guests of Hotel Apartment Andy
Breakfast in your apartment/room at Hotel Apartment Andy by advance booking
Afternoon Snacks & Terrace
Terrace, winter garden & bar daily from 14.00 to 22.00. Closed on Tuesdays.
Coffee, homemake cakes, ice creams
Small snacks (14.00 to 17.00)
Fine wines from our Vinothek (also for take-away)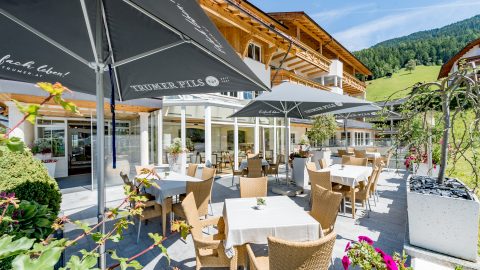 A la carte restaurant
Evening dinner daily from 18.00 to 21.00. Closed on Tuesdays. Please book table in advance.
Local and international delicacies – from steaks to original Wiener Schnitzel, from local fish to seafood, from vegetarian and vegan dishes, and desserts to satisfy your sweet tooth