Ski Opening in the Pitztal
Start the skiing season at Andy Hotel Apartment Wellness
After the mild temperatures in autumn, winter sports enthusiasts can't wait to make their first turns on the vast slopes of the Pitztal valley. The village Jerzens has 1,000 residents and is situated on a sunny plateau at an elevation of 1,500 metres. The high altitude guarantees snow as early as November. Top modern snow-making systems ensure unlimited skiing fun, even if Mother Hulda has not yet covered the Pitztal valley in a white blanket.
Ski-in / Ski-out at Andy Hotel Apartment Wellness
Are you ready for some fun on the slopes at the Hochzeiger ski area?
Located directly at the valley station of the ski area Hochzeiger, Andy is the ideal starting point for a fun day out skiing. No need to drag your equipment long distances to the slopes, no queues at ski lifts, no overcrowded pistes. November and December are particularly quiet as most children are still at school. The perfect time for sports enthusiasts, young families and people who are looking for tranquility to engage in activities on and off the slopes of the Pitztal valley. The ski area Hochzeiger offers more than 50 kilometres of slopes in various levels of difficulty.
Austria's highest elevation ski area, the Pitztal Glacier, boasts 41 km of groomed runs and 41 km of off-piste runs on altitudes higher than 3,000 metres and is best reached by bus in just 30 minutes. The Pitz RegioCard is your ticket to all ski resorts of the Pitztal valley and includes the ski areas Hochzeiger, Pitztal Glacier & Rifflsee as well as the Imst mountain railways. Of course you can obtain all the desired ski passes directly at our reception and start your skiing holidays right away.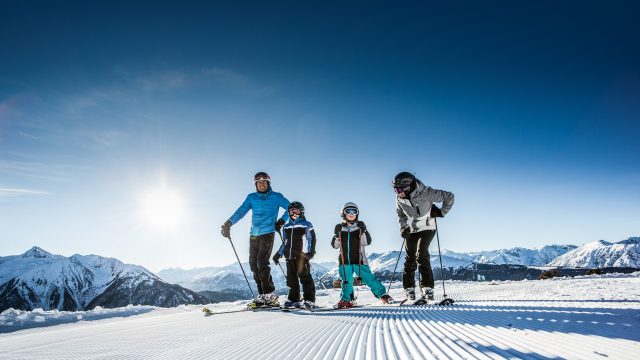 10 reasons for ski opening in the Pitztal valley
Peace, tranquility and a spectacular panoramic view at an altitude of 1,500 metres
The utmost in comfort in Andy's 24 exclusive premium apartments and 14 stylish double rooms
Spacious spa area and à la carte restaurant
Doorstep skiing on more than 50 kilometres of groomed pistes
Snow-secure due to high altitudes, all pistes with snow-making capabilities
No queues at ski lifts, no crowded pistes
Ski schools with childcare for small children
Ski school and ski rental just a few minutes from Andy Hotel Apartment Wellness
9 modern cable cars and ski lifts transport skiers up to altitudes of 2,500 metres
Mountain huts, restaurants and après ski
Skiing in Jerzens – enjoying family time and connecting with nature
A world away from the distractions of everyday life
Our very young guests are well-cared for at the ski school while Mommy and Daddy go skiing on their own. A fun toboggan ride, romantic winter hikes and relaxing pampering moments at Andy Hotel Apartment Wellness. How about a drink in our quaint Egger Lounge? Or maybe you prefer an invigorating Swiss stone pine massage? Enjoy days of pure alpine bliss here in Jerzens in the Pitztal valley. We are looking forward to welcoming you!
Top Winter Offers at Andy Hotel Apartment Wellness
Ski Areas in the Pitztal
Ski area Hochzeiger in Jerzens with 50 km of slopes, 9 ski lifts, snow park, natural toboggan run, trails for winter hiking.
Free bus service to Austria's highest ski area Pitztaler Glacier & Rifflsee: 40 km of slopes, 12 km high-altitude cross-country skiing trails.
Glacier Park Card Ski & Snow Winter: 1 ski pass – 6 ski areas – 76 slopes in altitudes of 1,000 to 3,440 metres – 121.5 km of slopes.
Ski Holidays in Jerzens in Tirol
Snow-sure on high altitudes of 1,500 to 2,500 metres
50 km pistes with snow making capability
9 modern cable cars & ski lifts, ski depot
Doorstep skiing, no need to drag equipment long distances
Ski school and ski rental within walking distance
Childcare at ski schools
Cozy mountain huts, restaurants and après ski